Exclusive winter retreat with manereia
WILDERNESS ADVENTURE - MEDITATION - TREKKING - ENERGY TRANSMISSION - HEALING
Date: 5 days in March/April 2023 - dates to be agreed
Place: Rustic mountain hut at the treeline in Härjedalen, Sweden
Welcome to an exclusive winter mountain retreat with Manereia
We walk in by ski about 5 km into an unspoiled mountain area and stay in very rustic mountain hut and do meditations, spiritual work and day trips from here.
The camp site will be totally out on mountain – just at the treeline.
5 km to closest car road. Snowmobiles may appear in the area.
Teaching will be in English and/or Swedish depending on the needs.
Group size 1-3 persons + Manereia
Winter retreat - Program Outline
Day 1
Meet up at Ljungdalen village at a time suitable for you
Walk in to the camp. About 5km ski trip. Manereia will bring and pull a snow-sledge which you can load part of your stuff on (max 10kg each).
Day 2, 3 and 4 
The retreat will be tailored to meet your needs, your skills and weather condition. Possible activities;
Short ski trips (5-10 km) in the surroundings
Long ski trips (10-20 km) in the surroundings
Sun bath (and meditation) in snow holes
The difficulty of the trip will be adapted to your skills. Everything from easy to more challenging ski trips are possible including climbing some local mountain peaks.
Daily meditations; Guided and silence. Outdoors and indoors
Healing, energy transmissions, DNA activation, channeled messages …
Spiritual discussions, sharing and guidance
Food cooking. You bring all your own food
Day 5
Walk out 5km back to Ljungdalen at a time that suites you
The dates for the retreat is to be agreed with Manereia and shall be in the period of 20 March – 11 April 2023
MANEREIA is a bhakti yogi and a mystic who channels strong energies of love from the universe that transform both him and the surroundings. Manereia loves to sit in front of an altar singing mantras or meditate. The nature is his best altar. When Manereia does not work as an engineer, he is often out camping in the wilderness or inspires others by performing different spiritual activities.
Manereia mainly teaches intuitively when he shares his knowledge and insights. His teaching is not only verbally but also energetically transferred. His daily practice is to connect to the life force and natural wisdom found in nature and from there expand and merge with the universal life force that he often names God.
In his awakening process the arising of the kundalini has played a major roll and he has developed experiences and methods of how to integrate the strong kundalini process into his everyday life and how to effectively use it for healing.
Manereia has been trekking and camping in the forests and mountains since 1979 and is a very good and trustworthy nature guide. He has spent lot of time on his own in the mountains and is well connected to the forces and spirits in the area.
Quotes

Manereia as a person and his teaching is at the same time powerful, caring and respectful. Full of wisdom and knowledge from his own experience and from different ancient traditions. I also appreciate his connection both to the mystic side of life as well as everyday family-life.
//Martin Petersson

Manereia teaches from a very deep and profound love that is rare to find and his energy transmissions are beautiful, strong, and healing in so many ways.
//Per Gunnarsson
Click here for more information about MANEREIA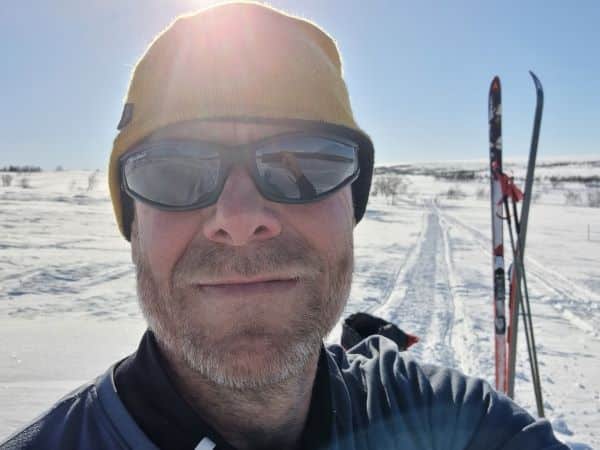 Experience with ski trekking, outdoor living and meditation practices are required.
You need to be strong enough to carry in about a 15 kg backpack with your belongings. Manereia offers to take 10 kg of your stuff (mainly your food) on his sledge, but you still needs to carry in about 15 kg to be well equipped.
The camp is for those of you who are ready to dive deeper into yourself; you should be in good physical and mental health and without any current mental illness to participate.
The mountain hut is very rustic and basic equipped with 4 beds and a wood stove. No electricity. Water is taken from the lake. Toilet in the outhouse. You need to bring a warm sleeping bag.
You arrange your travel to Ljungdalen by your own
You bring your own food
You bring all your personal belongings such as backpack, sleeping bag, winter clothes and cross country skis suitable for the mountains
Equipment list with suggestions what to bring will be provided
All Projekt SOL activities are alcohol, smoke and drug free
There is very low mobile net coverage in the area. Don't expect to use your mobile for other things than taking photos
Manereia will bring a satellite communicator making it possible for you to text and receive a few sms messages if needed. It can also be used for emergency needs.
20,000 SEK together for 1-3 people. You find the group.
Reserve a place only for you to be only with Manereia; 20,000 SEK
Want to share a place with 0-2 others people but cannot find a group; 15,000 SEK
Price includes mountain hut, teaching and guiding only. Bring all your own food and gear.
Do you want to make a shorter stay? Contact Manereia to discuss dates and price. 
Apply by mail to office@manereia.com or fill in the below contact form below and Manereia will come back to you.

For quicker response to your request, add your mobile phone number to your message. In that way Manereia can come back quicker to you by satellite sms.