Open house and free mini retreat
Manereia turns 60 and celebrate with Open House in garden and barn.
If you like, stay one or two nights and participate in a free mini retreat afterwards. 
PROGRAM – OPEN HOUSE MONDAY 3 JULY – come when you like during the day
14:00 Drop in from
15:00 Yoga
16:00 Meditation
17:00 Put-look party and cake
19:00 KIRTAN (Song meditation)
Free event
Open house is for free. If you like, bring something to eat for the put-look party , we will bring the cake.
No gifts/Collections to orphanage school in India
Please no gifts to Manereia except for wild flower that you picked yourself and food to the party. But we collect money for an orphanage school in India, Swish to Magnus Hj 070-2962008 and mark with "gift to Indian School"
Alcohol free
All Projekt SOL events are alcohol and drug free.
Sign up
OK to just drop in to open house, but if possible sign up in advance.
Place: Projekt SOL, Hemmesjö (Växjö, Sweden). Google map; Projekt SOL, Åryd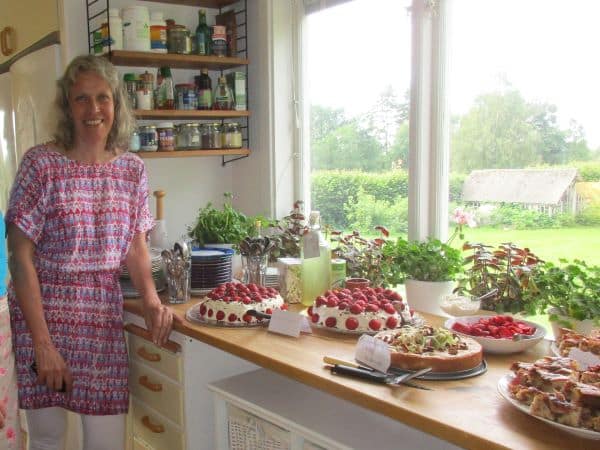 PRELIMINARY PROGRAM MINI RETREAT
Stay if you like and we create a mini retreat together. Preliminary program below.
Tuesday 4 July
06:30 Aquarian Sadhana (Kundalini Yoga + Mantra)
09:00 Breakfast
11:00 Guided meditation
13 :00 Lunch
16:00 Singing/Mantra
18:00 Dinner
Wedensday 5 July
06:30 Puja
07:30 Yoga
09:00 Breakfast
11:00 Energy transmission and healing
13:00 Lunch
Hang around as long you want
The mini retreat is for free, food included, we cook together. Stay as long you want. Sleep in bed, on floor or in tent.
Sign up
Sign up by fill in the below form or send a mail to Manereia latest 28 June.
Place: Projekt SOL, Hemmesjö (Växjö, Sweden). Google map; Projekt SOL, Åryd
My return is now for those who dare to see – that everything out there – was just a mirror – of our inner self. For those who surrender – for those whose fight is over. Wake up and create the new word with Me – My second coming is within
 – Be the change you want to see in the world –
Did you like this event? Don't forget to update your subscription of our newsletters to include
"Events in the Barn" and "Bhakti & Kirtan" to not miss any future events.