Öppet hus och gratis mini retreat
Manereia fyller 60 och firar med Öppet hus i trädgården och ladan.
De som vill kan stanna kvar en eller två nätter efteråt för att vara med på ett gratis miniretreat.
PROGRAM – ÖPPET HUS MÅNDAG 3 JULI – kom när du vill under dagen
14:00 Drop in
15:00 Yoga
16:00 Meditation
17:00 Knytkalas och tårta
19:00 KIRTAN (Sångmeditation)
Gratis evenemang
Det är gratis att vara med på öppet hus. Ta gärna med dig någon form av vegetarisk mat till knytkalaset – vi fixar tårta.
Inga presenter – Istället Insamling till skola i Indien
Manereia vill inte ha några presenter förutom vilda blommor som du plockat själv och mat till kalaset. I stället samlar vi in pengar till en skola för föräldralösa barn i Indien, Swisha till Magnus Hj 070-2962008 och märk med "gåva till skolan i Indien"
Alkoholfritt
Alla Projekt SOL arrangemang är alkohol och drogfria
Anmälan
Det går bra att bara droppa in på öppet hus, men anmäl dig gärna innan.
Plats: Projekt SOL, Hemmesjö (Växjö, Sweden). Google map; Projekt SOL, Åryd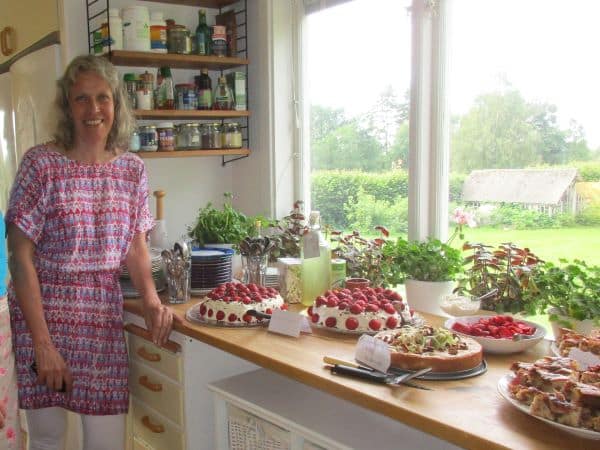 PRELIMINÄRT PROGRAM MINI RETREAT
Om du vill, stanna kvar och skapa ett mini retreatet tillsammans med oss. Vi hjälps åt med att laga mat mm. Preliminärt program ser ut så här, vi kanske ändrar beroende på vem som kommer;
Tisdag 4 Juli
06:30 Aquarian Sadhana (Kundalini Yoga + Mantra)
09:00 Frukost
11:00 Vägledd meditation
13 :00 Lunch
16:00 Sång/Mantra
18:00 Kvällsmat
Onsdag 5 Juli
06:30 Morgon Puja
07:30 Morgon Yoga
09:00 Frukost
11:00 Energiöverföring och healing
13:00 Lunch
Häng kvar så länge du vill
Det är gratis att vara med på mini retreatet. Mat finns här som vi lagar tillsammans. Stanna så länge du vill. Sov i säng, på golv eller i tält.
Anmälan
Anmäl dig genom att fylla i formuläret nedan eller maila Manereia senast 28 Juni.
Plats: Projekt SOL, Hemmesjö (Växjö, Sweden). Google map; Projekt SOL, Åryd
My return is now for those who dare to see – that everything out there – was just a mirror – of our inner self. For those who surrender – for those whose fight is over. Wake up and create the new word with Me – My second coming is within
 – Be the change you want to see in the world –
Did you like this event? Don't forget to update your subscription of our newsletters to include
"Events in the Barn" and "Bhakti & Kirtan" to not miss any future events.