Utveckla din healingförmåga med Manereia and Per
Plats: Projekt SOL, Växjö
Datum: 20 - 21 November 2021
Lär dig heala
En 2-dagars healing kurs med två erfarna healers som delar med sig och lär ut hemligheterna om hur man kopplar upp sig på kraften för att heala sig själv och andra.
HEALING KURS - LÄR DIG HEALA
Kom, släpp kontrollen och lär dig heala på denna 2-dagars retreat med Manereia Hanuman och Per Gunnarsson.
Manereia och Per är två erfarna healers med stark uppkoppling till den helande källan som flödar genom deras händer, kroppar och energisystem. Deras högsta önskan är att dela med sig av sin kunskap till dig och att energimässigt kopiera in länken till den kärleksfulla källan till dig och din kropps energisystem, så att du lättare och lättare kan komma i kontakt med kärlekens källa. På detta sätt kommer du även i djupare kontakt med ditt högre jag. Ingen lämnas oberörd i denna retreat.
Vi kommer att utforska och testa olika metoder för att överlämna oss till den högre intelligensen, kraften som gör våra kroppar levande, intelligensen som styr och läker oss. Vi kommer kollektivt att ansluta till källan och därifrån bada i det helande flödet som induceras av energitransmissionerna som initierats av Manereia och Per. Vi kommer också att tränar på hur man både tar emot och ger helande energi till och från varandra.
Retreaten inkluderar också mjuk yoga eller qigong, som anpassas så alla kan vara med.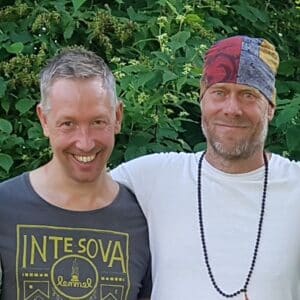 MANEREIA HANUMAN
Manereia is a bhakti yogi who channels strong energies of love from the universe that transform both him and the surroundings. His role on earth is to assist the ascension of humanity and earth to higher dimensions and consciousness level.
Manereia mainly teaches intuitively when he shares his knowledge and insights. His teaching is not only verbally but also energetically transferred. His daily practice is to connect to the life force and natural wisdom found in nature and from there expand and merge with the universal life force that he often names God.
In his awakening process the arising of the kundalini has played a major roll and he has developed experiences and methods of how to integrate the strong kundalini process into his everyday life. He uses this energy effectively for healing.
Quote

Manereia as a person and his teaching is at the same time powerful, caring and respectful. Full of wisdom and knowledge from his own experience and from different ancient traditions. I also appreciate his connection both to the mystic side of life as well as everyday family-life.
//Martin Petersson
PER GUNNARSSON
Healing love personified
After two major operations where he removed cysts from the spinal cord inside the head, his health was limited for a couple of years. But after finding meditation in 2008 as a way to heal his nervous system, he studied with several enlightened masters in four continents which not just improved his health significantly through the spiritual practices, but also opened up special gifts within him. He found a strong loving and healing energy that since has evolved and helped many people.
Per is often described as the most loving person you ever met. If you watched what happened with a human being that is loved for all that they are – you know that Per's loving power makes him an efficient facilitator.
Per is a certified yoga teacher and has been teaching in Sweden, Europe, and Asia. He is also a certified qigong teacher. Per's way of facilitating is relaxed, calm, and filled with humility and humour.
Quote

During the years I have always enjoyed the company of Per. In his yoga and Qi-gong classes, in conversation and in silence. His kind attention, healing energy and significant knowledge makes him a very good teacher.
//Martin Petersson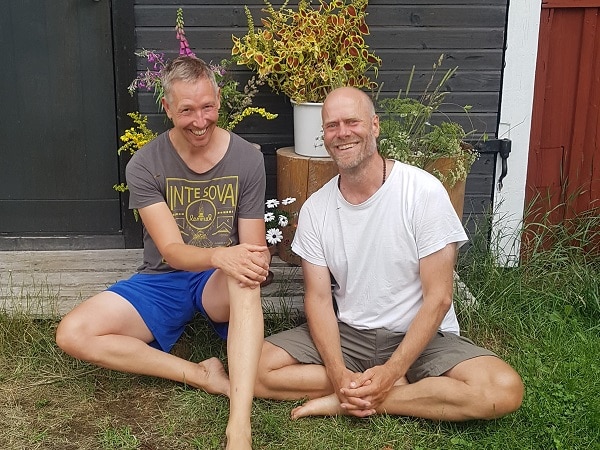 "I release control and surrender to the flow of Love, that will heal me"
Lördag, 20 November
10:00 Workshop: Introduktion, Energiarbete och Qi-gong
12:30 Lunch (vegetarisk)
14:30 Workshop: Kom i kontakt med healing energin. Ge och ta emot healing till och från varandra
17:30 Kvällsmat (vegetarisk)
19:30 Kvällsaktivitet
Söndag, 21 November
08:00 Frukost
09:30 Qi-gong
10.30 Workshop: Energiarbete, ge och ta emot healing i grupp
12:30 Lunch (vegetarisk)
14:30 Energiöverföring: Vi tar tillsammans emot och badar i healingenergin från källan som Manereia och Per kanaliserar ner till oss alla.
16:00 Avslutning
17:00 SLUT
Vi håller till i Projekt SOL's lokaler på landet strax utanför Växjö
Bra tågförbindelser till Växjö, hämtning och lämning på stationen kan ordnas
Undervisningen sker på svenska och/eller engelska så att alla kommer att förstå
Vegetarisk mat (och te/kaffe) ingår och lagas av personalen 
Alkohol-, rök- och drogfritt
2300 SEK om du anmäler dig och betalar senast 1 November, sedan 2800 SEK. Vegetarisk mat lagas och serveras av Manereia och Per och ingår i priset.
Pris för övernattning tillkommer enligt nedan;
Säng i delat 2-3 personers sovrum kostar 300 SEK. Begränsat antal sängar (first come, first served)
Sov på lånad madrass på golvet är gratis om du tar med dig egna sängkläder.
Bo på hotell eller vandrarhem i Växjö's omgivningar (du bokar och betalar detta själv)
Om du kommer långväga, eller vill vara här i god tid, får du gärna komma och sova över från Fredag kväll. Lägg till pris för en extra natt enligt ovan + 100 SEK för frukost Lördag morgon.
Hämtning/lämning på järvägstationen i Växjö kan ordnas och kostar 50 SEK per person och enkel resa.
Fyll i formuläret nedan eller skicka ett mail till manereia@manereia.com
eller maila Per; info@pergunnarsson.se  eller ring Per;  0725-77 60 10
Efter att du anmält dig får du ett mail om hur du hittar hit och hur du betalar.
Om du avbokar senast 10 November, så får du tillbaka 80% av dina pengar.
Om du avbokar efter 10 November, så får du inga pengar tillbaka.
Om retreatet behöver ställas in (oavsett orsak) får du tillbaka alla dina pengar. Eventuella kostander för tågbiljetter, hotell eller liknande ersätts dock ej.