BHAKTI SCHOOL BY MANEREIA
Bhakti Sanga Camp - Love and devotion Retreat
Date: 30 June - 4 July 2021
Place: Projekt SOL, Växjö, Sweden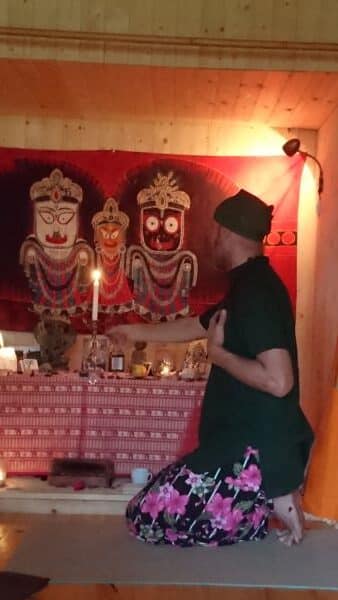 Bhakti School by Manereia
Manereia has developed his own way of Bhakti practice. He is deeply inspired by other traditions but don't follow any of them specifically. His love to the Divine is profound and his highest wish is to share his findings with those who wants to know and learn.
At this retreat we will receive teaching from Manereia where he share some of his his used tools and thinking's. We will discover how to deepen our connection to our own hearts and to the Divine by practicing together. We will receive Energy and Healing Transmissions.
This is a small group Sanga Camp were we meet in love and deepen our friendship. We live simple, cook our food and manage the camp together at Ashram like conditions.
Quote: "Manereia teaches the path of love from his own path of love. His teachings and events are manifestations of the universal love, and helps you to re-connect with the heart – your own heart as well as the heart and love of the universe. In fact, Manereia shows us that your own heart is a portal to the universal love."
//Anna Lindqvist
Bhakti school by manereia - Program (under development)
Wednesday 30 June
14:00-18:00 Arrival time
19:00 Welcome meeting
Thursday 1 July
06:30 Bhakti Puja
07:30 Yoga or Qigong
09:00 Breakfast
11:30 Workshop (Manereia)
13:00 Lunch
16:00 Workshop (Manereia)
19:00 Dinner
Friday 2 July
06:30 Bhakti Puja
07:30 Yoga or Qigong
09:00 Breakfast
11:30 Workshop (Manereia)
13:00 Lunch
16:00 Workshop (Manereia)
19:00 Dinner
Saturday 3 july – Manereia's birthday party – Possibly open to public
06:30 Morning Sadhana
09:00 Breakfast
09:30-13:00 Free time and celebration preparation
13:00 Lunch
15:00-18:00 Open house activities
18:00 Dinner, celebration, cake etc
20:00 KIRTAN
21:30 End
Sunday 4 July
06:30 Silent Meditation
07:30 Yoga or Qigong
09:00 Breakfast
11:30 Sharing and Chanting
13:00 Lunch
15:00 END
15:00-18:00 KARMA YOGA option; Stay and help to clean up the house – eat up leftover food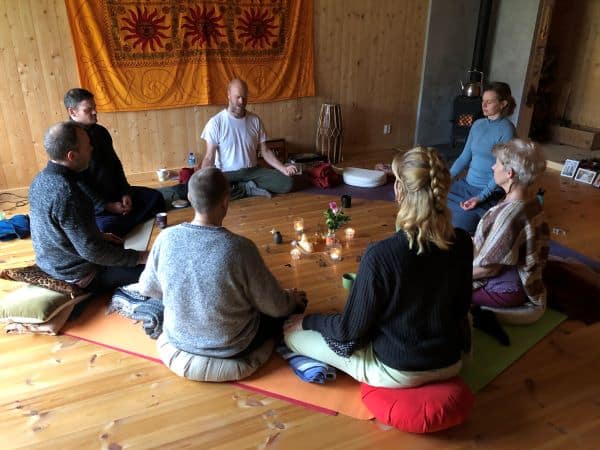 Experience from regular spiritual practice and a deep

desire to explore your relationship with the

Divine is required. 
You are open to discover new areas and to develop your Bhakti practice.
The camp is for you how are ready to dive deeper into yourself and you are supposed to be in good mental health and without any current mental illness to participate.
We are located in the Project SOL's premises outside Växjö
Vegetarian food included. We cook the food together. 
All Projekt SOL activities are alcohol and drug free.
SEK 2700 if you pay latest 1 June
SEK 3200 if you pay latest 15 June
SEK 3700SEK if you pay after 15 June
Price includes VAT, food and accommodation on floor or tent space. Bring your own gear.
Group size is 4-12 people (may change due to corona situation). Apply in time to reserve your spot.
Accommodation upgrade alternatives
Indoor bed with bedding and sheets in shared 2-4 beds rooms inside the house, 1000SEK/bed. (limited amount of beds available)
Mattress with bedding and sheets to use on the floor, 250SEK.
Commute and arrange your own hostel or hotel accommodation in Växjö area
If you cancel your place latest 1 June 2021 your money will be paid back, except for an administration fee of 500 SEK.
If you cancel latest 15 June 2021, 50% of your money will be paid back.
No refunds if you cancel after 15 June 2021.
If the retreat needs to be cancelled all your money will be paid back. Other costs, for example unused train tickets or hotel bookings will not be reimbursed if the retreat needs to be cancelled.