TRANSFORMATION YOGA CAMP SUMMER 2020
Date: 30 June - 5 July 2020
Place: Projekt SOL barn, Växjö, Sweden
During ashram-like conditions, we meet and work with our inner transformation, this time with focus on connection to mother earth and inner stillness. Part of the time will be held in silence. If the weather allows, many of the activities will be held outdoors.
Due to the Covid-19 situation, the number of participants has been reduced, the cancelation policy changed, more outdoor activities added and tenting recommended as the 1:st choice for your accommodation, see below for more details.
Start: Tuesday 30 June 19:00
End: Sunday 5 July 14:00
The teaching will be in Swedish and English depending the needs.
Tuesday 30 June
14:00-18:00 Arrival time
19:00 Welcome meeting
Wednesday 1 July – Connection day
06:00 Puja (Manereia)
07:00 Qigong (Per)
08:30 Breakfast
11:00 Connection to mother earth, invitations of our inner guides and set intensions. (Manereia)
13:00 Lunch
15:00 Meditation (Joakim)
19:00 Dinner
Thursday 2 July – Excursion day
06:00 Puja (Manereia)
07:00 Qigong (Per)
08:30 Breakfast
10:00-17:00 Excursion
– Nature walk and forest meditation (Manereia)
– Picnic lunch and possible lake swim
– Deepen our connection to Mother Earth (Roger)
19:00 Dinner
Friday 3 July – Free time and celebration day
06:00 Puja (Manereia)
07:00 Yoga or Qigong (Pending teacher)
08:30 Breakfast
09:30-13:00 Free time and/or celebration preparation
13:00 Lunch
15:00-18:00 Smörgårdsbords Activities (Different teachers, different activities)
18:00 Dinner, celebration, cake etc
20:00 KIRTAN (Martin and Manereia)
21:30 End
Depending on the corona and weather situation the camp may open up Friday afternoon to the public to celebrate Manereia's birthday.
Saturday 4 July – Stillness and healing day. Silence from 06:00 to 17:00
06:00 Puja (Manereia)
07:00 Yoga (Martin)
08:30 Breakfast
10:30 Sharing and Chanting (Manereia)
11:30 Meditation (Joakim)
13:00 Lunch
15:00 The 5 Tibetans Healing Circle (Joakim, Per, Roger, Martin, Manereia)
18:00 Church visit (Helgmålsgudstjänst, optional)
19:30 Dinner
Sunday 5 July – Integration day
06:00 Puja (Manereia)
07:00 Yoga (Martin)
08:30 Breakfast
11:00 Sharing and closing ceremony (Manereia)
14:00 END
14:00-18:00 KARMA YOGA option; Stay and help to clean the house – eat up the leftover food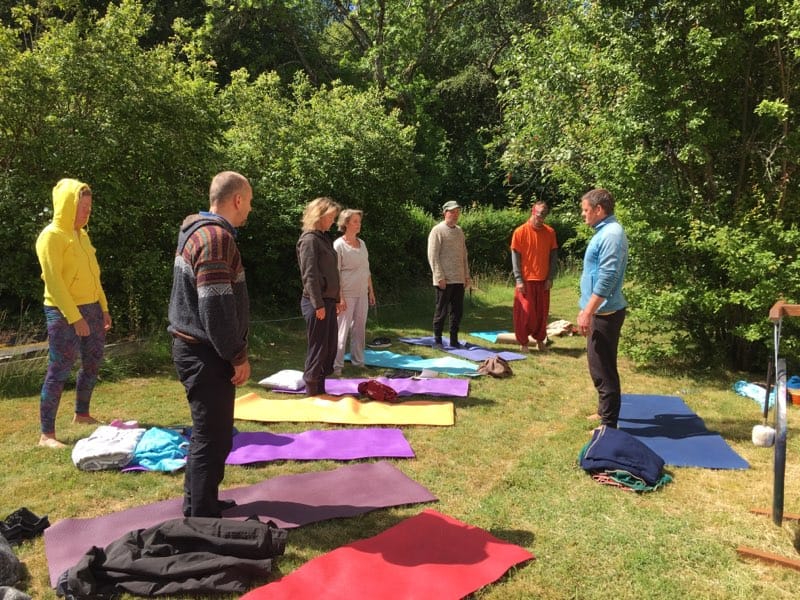 MARTIN: Martin Petersson teaches a gentle, respectful yet powerful form of yoga with the intention of nurturing and balancing body, mind and soul. Martin is inspired by ancient wisdom from various spiritual paths and finds this a useful and a valuable treasure in our modern world.
JOAKIM: Joakim Eneroth is an experienced meditation teacher, he has over 20 years of practicing experiences and received meditation instructions from multiple Buddhist traditions. His intention is to bring a secular entrance to insight practice to become more readily available and applicable to people in the western culture.
ROGER: Roger Orwén is inspired by the greater energy and lifeforce that is around us. He does Shamanic healing, drum-travels, has a meditation practice from the Buddhist tradition and channels spirits of the nature to help us on our path.
MANEREIA: Manereia Hanuman is a fully Kundalini activated Bhakti Yogi who channels strong healing power from the universe. His role on earth is to assist the ascension of humanity and earth to higher dimensions and consciousness level. Manereia teach both verbally and energetically at the camp by sharing and transfer his vibration to the participants. Click here for more information about Manereia.
PER: Per Gunnarsson undervisar yoga, qigong och meditation och har gått de flesta av sina utbildningar på Bali samt på många retreater i Sverige och runtomkring i världen. De senare åren har Per mer och mer dragits till lärare som undervisar med hjälp av energi och har själv utvecklats starkt i detta område.
Experience from regular yoga or meditation practises is required. The camp is for you how are ready to dive deeper into yourself and you are supposed to be in good mental health and without any current mental illness to participate. Please follow and read the links Transformation Yoga and Manereia before you apply and make sure that you are well aware of what kind of work we are doing.
We are located in the Project SOL's premises outside Växjö.
This summer our first recommendation is to tent in the garden, bring your own camping gear. Some tents are available to be borrowed (to be agreed in advance).
Vegetarian food included. Every day, we will appoint a small food team who will prepare and serve the food to the rest of the camp. We will eat in 2 different rooms or outdoors.
Excellent train connection from Copenhagen airport (CPH) and Stockholm city to Växjö (find train tickets at www.sj.se or www.oresundstag.se or www.snalltaget.se)
Pickup / drop off at Växjö Railway Station can be arranged (SEK50 per ride and person)
All Projekt SOL activities are alcohol and drug free.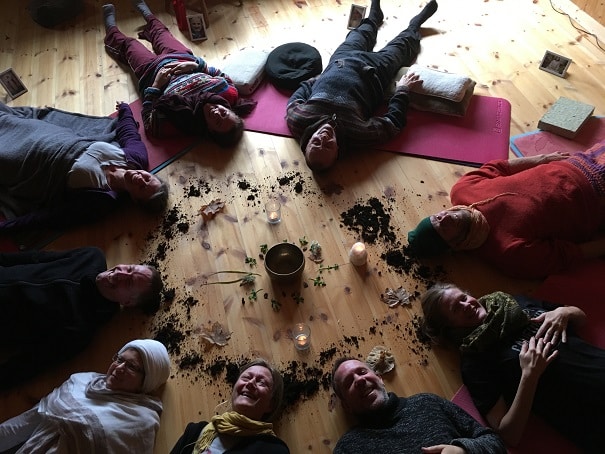 SEK3200 if you apply and pay the registration fee of 500 SEK latest 15 June, then 3700SEK.
Price includes food and accommodation on floor or tent space. Bring your own gear.
Apply by mail, after approval reserve your place by paying 500 SEK as registration fee on bank giro 636-5621 or swish 123 356 0984 (MHI-konsult AB). No refund will be given on registration fee.
Final payment at arrival in cash, swish or by invoice. If you have to cancel due to issues related to recommendations from authorities regarding Covid-19, you don't need to pay the final payment, but you have to inform us before you cancel.
If the camp has to be cancelled all payments, including the registration fee, will be paid back.
Group size limited to max 12 people, apply in time to get a place.
Accommodation upgrade alternatives
Indoor bed with bedding and sheets in shared 2 beds rooms inside the house, 1000SEK/bed. (limited amount of beds available)
Mattress with bedding and sheets to use on the floor, 200SEK.
Commute and arrange your own hostel or hotel accommodation in Växjö area